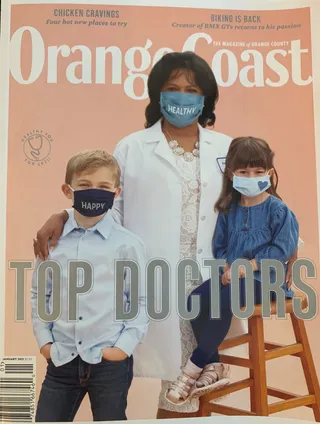 Newport Children Medical Group has been published in the Orange Coast Magazine 2021 Top Doctors edition.
Dr Johanna Rodriguez- Toledo and Dr Zacharia Reda were named Physicians of Excellence in Pediatrics in 2021.
Dr. Johanna Rodriguez-Toledo was selected for inclusion in the 2013 edition of ' The Latino American Who's Who' that selects and distinguishes leading Latino professionals throughout the world who have attained a recognizable degree of success in their field of endeavor and thereby contribute to the growth of their industry and culture. Dr Rodriguez-Toledo has also been selected as an honored member of 'Trademark Women of Distinction Honors Edition 2017'. This year 2021, Dr Rodriguez-Toledo was awarded Physician of Excellence Award in Pediatrics by the Orange County Medical Association, published on the Orange Coast Magazine Top Doctors 2021 edition.

Dr. Zacharia Reda has been named one of the Best Doctors in America® for 2013. The prestigious recognition marks the 9th time that Dr. Zacharia Reda has earned this honor.
The highly regarded Best Doctors in America ® List, assembled by Best Doctors, Inc., results from exhaustive polling of over 45,000 physicians in the United States. In a confidential review, current physician listees answer the question, "If you or a loved one needed a doctor in your specialty, to whom would you refer?" Best Doctors, Inc. evaluates the review results, and verifies all additional information to meet detailed inclusion criteria.
Best Doctors has earned a sterling reputation for reliable, impartial results by remaining totally independent. Doctors cannot pay to be included in the Best Doctors database, nor are they paid to provide their input. The List is a product of validated peer review, in which doctors who excel in their specialties are selected by their peers in the profession.
Over the past 20 years, Best Doctors has earned global acclaim for its remarkable database of physicians, regarded as the world's premier effort to create a validated, peer-reviewed database of excellence in medicine. The Best Doctors methodology is rigorously impartial and strictly independent; only those doctors recognized as the top 3-5% of their respective specialty earn the honor of being named one of the Best Doctors in America. The experts who are a part of the Best Doctors in America database provide the most advanced medical expertise and knowledge to patients with serious conditions – often saving lives in the process by finding the right diagnosis and right treatment.
Dr Rodriguez-Toledo is an excellent pediatrician. She thoroughly answers all my questions, interacts well with my daughter, carries herself professionally, and genuinely cares about her patients. I would highly recommend her to anyone looking for a wonderful and kind pediatrician.

Verified Reviewer

I love her she has taken care of my son from his circumcision to his vaccinations. Anytime I call and have questions she calls me back herself within the minutes. Very informative and reassuring.

Ashley Millar

Very polite staff and physicians. Would recommend to any parents.

May Rose